Roasted Beer Can Cream of Chicken Soup
Roasted Beer Can Cream of Chicken Soup
Who doesn't love cooking with beer?! Well, here's a fun new way to use it in a creamy soup. This recipe can be made outside on the BBQ or in the oven.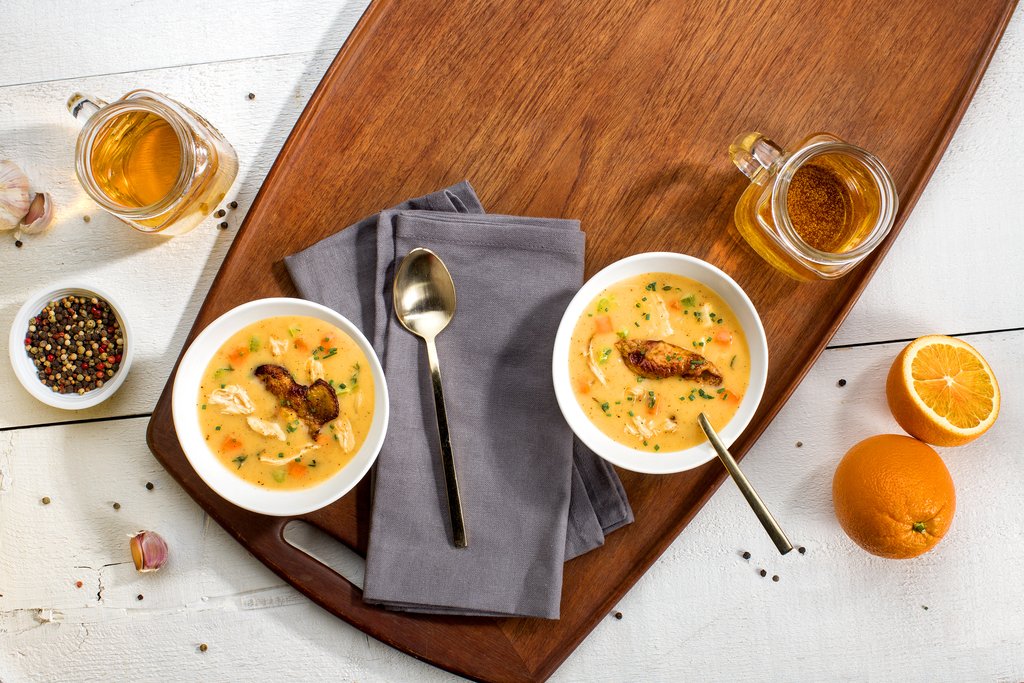 Watch Video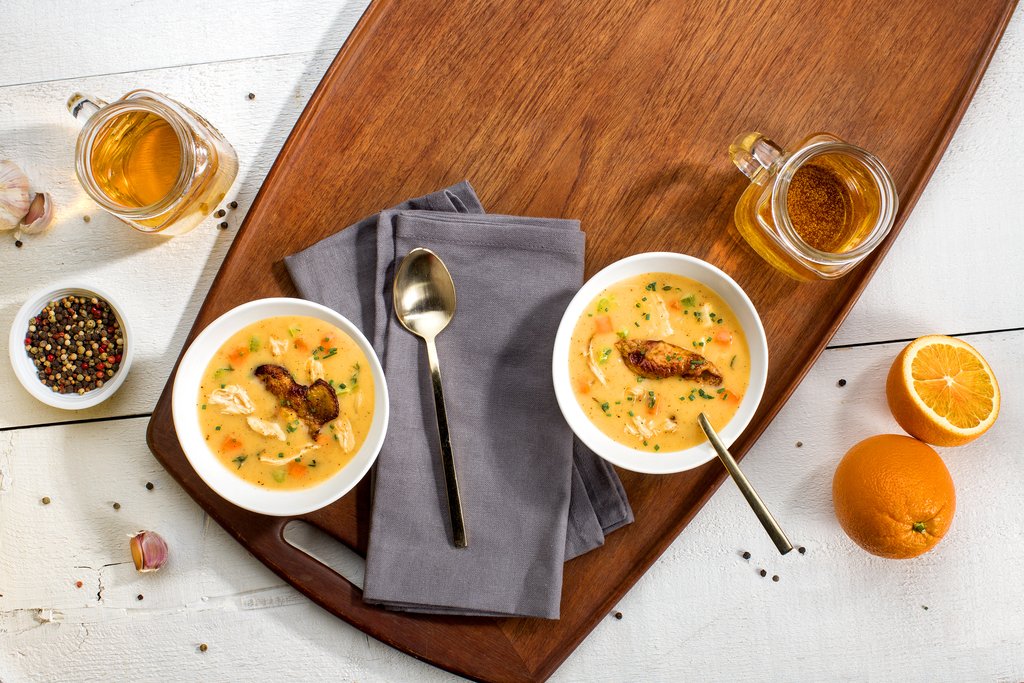 Ingredients



Ingredients for Beer Can Chicken:

1 tbsp (15 mL)

cayenne pepper

1 tbsp (15 mL)

ground black pepper

2 tbsp (30 mL)

brown sugar

1 tsp (5 mL)

garlic powder

1/2 cup (125 mL)

unsalted butter, melted

1

orange juice, freshly squeezed

1

whole chicken, giblets removed, washed clean and patted dry inside and out

1 can

beer (ale or lager)




Ingredients for Soup:

2 tbsp (30 mL)

canola oil

1/4 cup (60 mL)

carrots, diced

1/4 cup (60 mL)

onions, diced

1/4 cup (60 mL)

celery, diced

1 tsp (5 mL)

fresh thyme leaves, chopped

2 cans

CAMPBELL'S® Condensed Cream of Chicken

2 1/2 cups (625 mL)

of water (2 soup cans full)

1

chicken

1 tsp (5 mL)

cayenne pepper

1

Chicken skin, fried crispy

1

Finely chopped chives
Directions
Pre-heat oven/BBQ to approximately 350°F (180°C).

In a small bowl,combine the cayenne pepper,pepper,brown sugar,garlic powder,melted butter and juice from the freshly squeezed orange. Gently mix together to form a paste.

Ensure the chicken is dry. Cover the entire bird with the paste.

If cooking on the BBQ,place the chicken directly onto the beer can,lowering it as much as possible. Cook the chicken,grill cover closed,over indirect heat for approximately 1 1/4 hours or until the internal temperature registers 165°F (74°C) in the breast area and 180°F (82°C) in the thigh. Remove from the BBQ,set aside to cool.

If cooking in the oven,place chicken directly onto the beer can,lowering it as much as possible. Roast to an internal temperature of 165°F (74°C). Remove from the oven,set aside to cool.

In a large pot,heat canola oil over medium heat. Add the carrots,onion,celery,thyme,and pepper. Return to a simmer,reduce heat to medium-low,and simmer for approximately 20 minutes or until the vegetables are tender.

When the vegetables are tender,add the cans of CAMPBELL'S® Cream of Chicken soup and water. Mix together,and return to medium heat.

Add the shredded beer can chicken pieces and cayenne pepper. Stir to combine,and return soup to a low simmer for approximately 10-15 minutes.

Meanwhile in a hot deep-edged frying pan,heat canola oil over medium-high heat. Fry the chicken skins for approximately 2 minutes or until crispy. Pat dry with paper towel and break into small pieces for garnish.

Ladle soup evenly into four bowls,and garnish each with crispy chicken skin and fresh chives.
Ratings & Reviews
---
By submitting, I agree to the terms and conditions.
Thank you for your review!
Please note that your review might take up to 72 hours to appear following submission.
We will let you know when it's posted by sending you an email.
show less reviews
read more reviews
Amount Per Serving
Calories
510
Fat
40 g
Sodium
900 mg
Carbohydrate
29 g
Dietary Fibre
4 g
Protein
7 g
Calcium
6 %DV
GET MEAL-MAIL®
Sign up for Meal-Mail® to get inspiring recipe
ideas delivered straight to your inbox